"Ich erstelle für Sie während ihrer Veranstaltung ein visuelles Protokoll, das die Ideen und Inhalte präsent in den Köpfen hält." 
Warum sich Graphical Recording für Sie lohnt?
Um mit den Ergebnissen einer Veranstaltung weiterzuarbeiten, müssen diese dokumentiert werden. Oft werden erarbeitete Inhalte auf einem Workshop, Event oder Tagung unzureichend dokumentiert. Zudem werden textlastige Protokolle meist nicht mehr durchgelesen. Oft werden die erarbeiteten Inhalte nach der Veranstaltung vergessen, da man zum Tagesgeschäft übergeht. Das Graphical Recording (visuelles Protokoll) unterstützt sie dabei die Kernaussagen aus den Veranstaltungen in Bilder zu übersetzten und somit greifbarer zu machen. Inhalte können sich besser gemerkt werden, wenn die Informationen zusätzlich mit Bildern verknüpft werden. Bilder schaffen Emotionen – was auch zum besseren Verständnis und Merken der Inhalte führt.

English Version
Why Graphic Recording is worthwhile for you?
In order to continue working with the results of an event, they must be documented. The content developed at a workshop, event or conference is often insufficiently documented. In addition, text-heavy logs are usually no longer read through. The content that has been worked out is often forgotten after the event, as one moves on to day-to-day business. The graphic recording (visual protocol) supports you in translating the core statements from the events into images and thus making them more tangible. Content can be remembered better if the information is also linked to images. Images create emotions – which also leads to a better understanding and memory of the content.
Mein Leistungsportfolio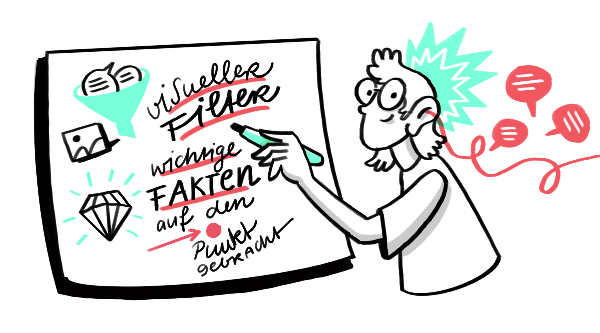 Ich erstelle in Echtzeit Illustrationen während Workshops, Events und Veranstaltungen

Aufbereitung des GR als Poster, Mailing oder Postkarte zum Versenden an die Teilnehmer

Ich finde für komplexe Sachverhalte die passenden Bilder
Ich übersetze Worte in humorvolle und einprägsame Bilder – Ich biete digitales und analoges Graphical Recording an
English Version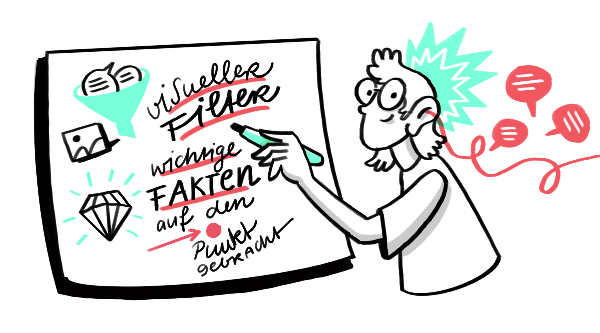 I create illustrations in real time during workshops and events

Preparation of the graphical recording as a poster, mailing or postcard to send to the participants

I find the right images for complex issues

I translate words into humorous and memorable images – I offer digital and analogue graphic recording